The Halifax-based company designs, programmes and manufactures control electronics for brushed, brushless, sensorless and stepper motors at its facility in Calderdale to export around the world.
"The funding secured will help us expand our operations in what is still a difficult economic situation," according to Zikodrive MD Phil Bates. "The funding from FW Capital has played an important role in this and we're very grateful for their support." Bates was voted Entrepreneur of the year at the Halifax Business Awards in 2018.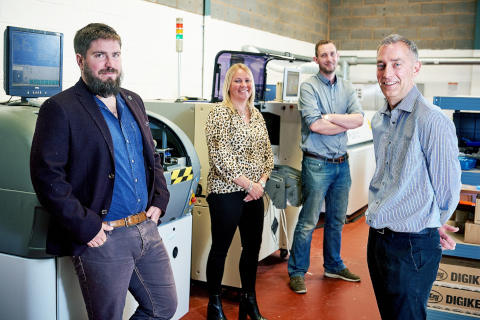 Left to right: Phillip Bates MD Zikodrive, Resolute Commercial Finance founder Vicki Walker, Zikodrive director of engineering Graham Fick and Andy Castle from FW Capital 
The money will be used in both the manufacturing and the design side of the business.
Zikodrive was founded in 2012 after university friends Graham Fick and Phil Bates spotted a gap in the market and began designing motor controllers at home.
The investment was facilitated by FW Capital investment executive Andy Castle, following an introduction by Vicki Walker, of Resolute Commercial Finance.
FW Capital is a fund management company currently managing UK-based funds over £191m. It provides loans of £100,000 to £750,000 to businesses based in the NPIF region with a focus on the North West, Cumbria and Tees Valley, and has invested over £100m through 418 investments into 336 North of England businesses.
Operating from the British Business Bank's Sheffield head office, the Northern Powerhouse Investment Fund provides a mix of debt and equity funding (£25,000 to £2m).
It works alongside ten Local Enterprise Partnerships, the combined authorities and Growth Hubs, as well as local accountants, fund managers and banks, to support Northern-based SMEs at all stages of their development.
The NPIF project is supported financially by the European Union using funding from the European Regional Development Fund (ERDF) as part of the European Structural and Investment Funds Growth Programme 2014-2020 and the European Investment Bank.