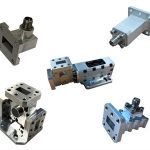 Smiths Interconnect's K-band waveguide components are qualified for spacecraft use in the company's state-of-the-art test and qualification laboratory in Dundee, Scotland.
Qualification for spacecraft use is completed for each product and comprises sine and random vibration, mechanical shock and where appropriate RF power TVAC, average power and multipaction, and critical power testing.
Summary and qualification data reports are available to prospective customers.
WR51 waveguide products are tuneless and optimised to operate over broad assigned bands. They are provided with a standard clear passivation coating but can be supplied with low emissivity black paint finish if desired.