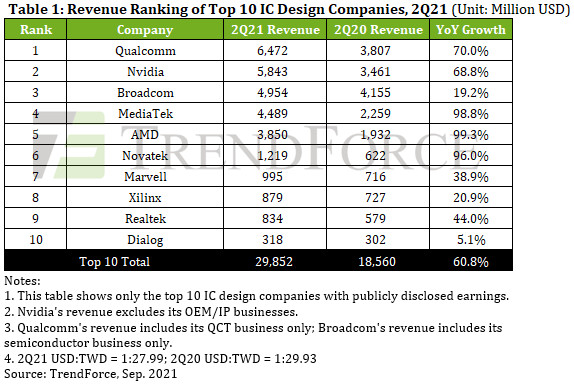 AMD had nearly 100% y-o-y growth while MediaTek and Novatek had y-o-y growth of 95%.
Thanks to its acquisition of Inphi, Marvell leapfrogged Xilinx and Realtek in the rankings to go from 9th place in Q1 to 7th place in Q2.
No.1 Qualcomm had IoT revenues of nearly $1.4 billion and overall Q2 revenue of $6.47 billion – a 70.0% y-o-y increase. 
No.2 Nvidia saw revenues from gaming graphics cards and data center solutions grow by 91.1% y-o-y and 46% y-o-y, driving Q2 revenue revenue to $5.84 billion – a 68.8% y-o-y growth.
No.3 Broadcom, had Q2 revenue of $4.95 billion, a 19.2% y-o-y growth. 
No. 4 MediaTek saw its  smartphone chip business deliver 143% Q2 growth driving it to Q2 revenues of $4.49 billion.
No.5 AMD, had Q2 revenue of revenue of $3.85 billion – a 99.3% y-o-y  increase, owing to the the bullish gaming console market; massive earnings growths from enterprise, embedded, and semi-custom solutions and increased client adoption of AMD's server CPUs (AMD's server processor business grew by 183% y-o-y  in 2Q21). 
Novatek's saw its display driver ICs, grow by 81% YoY in 2Q21.