Operating from a 3.3V rail, in stand-by mode, the 1-lane (or 2 channel) PI3EQX12902E consumes 1.7mW, whihc rises to 3.3mW for the 2-lane (4 channel) PI3EQX12904E.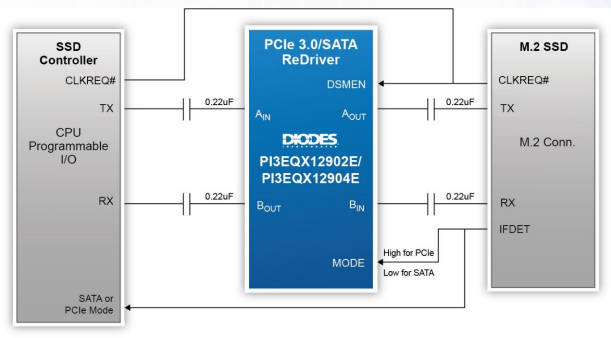 A pin selects PCIe 3.0 or SATA3 mode, and data rates up to 8Gbit/s are supported. "Their conformance with both PCIe and SATA protocols present OEMs with extremely versatile solutions," according to the company.
They provide programmable equalisation, linear swing and flat gain capabilities, allowing signal losses to be compensated for extending PCB track lengths, and they are transparent to link training.
Operation is across  -40 to 85°C.
PI3EQX12902E comes in a 4.5 x 2.5mm 30-TQFN (ZL code) package, and PI3EQX12904E in a 9 x 3.5mm 42-TQFN (ZH) package.
Diodes expects them to be used in laptop, notebook, industrial PC and embedded system designs.
The product pages are here:
PI3EQX12902E
PI3EQX12904E
Data sheets are not publicly available.